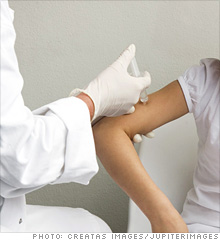 Parents who bring their kids to Dr. G. Andrew McIntosh for the chicken pox vaccine are out of luck.
The family physician, who has a solo practice in Uniontown, Ohio, doesn't offer that shot because he can't afford it. Most insurers won't sufficiently cover the cost.
"It doesn't do me any good. I am losing money on [them]," he said. The chicken pox vaccine runs about $115, but insurers only cover between $68 to $83 of that.
McIntosh has also cut back on a handful of other critical childhood vaccines for the same reason -- including the measles, mumps and rubella, known as the MMR vaccine.
It costs him about $58 to buy an MMR shot, he said, while insurers pay about about $40.